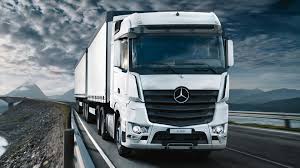 Mercedes- Benz has made life easier than ever before by including many different options into their lineup. Introducing the all new Actros, the semi of the century, get to every destination in style. The Actros has been completely redesigned to make an economic vehicle that provides the utmost comfort and luxury for everyone to enjoy. From top to bottom, front to back, we are not disappointed in what we see here.

Mercedes influences an extreme comfort that exhilarates a considerably delicate interior. The Actros has maintained the elegant radiator grille that magnified long, slimming features, and smooth architecture. This is where workplace meets living, a welcoming atmosphere surrounded by bright lights that are perfect for those long distance travelers. Offering much more storage and organization than any other truck or bus, the Actros is ideal for a casual lifestyle or an active work routine.

This truck is powered to redefine the dimensions of the economy. Fully equipped to reduce consumption and be more economically cautious by its manageable engines. The Actros is one of the first semi trucks/bus in the industry that offers the recommended requirements of the Euro VI standards, inclined to adapt to any upcoming road conditions. These innovative technologies have saved drives money on overall maintenance costs.

Although this truck is not yet in the U.S., Mercedes has been trying to find a way to introduce this beast to our country in the near future. So be on the lookout for any updates and in the mean time, stop by the Mercedes-Benz of Tacoma to test drive our amazing inventory of certified pre-owned and new vehicles.