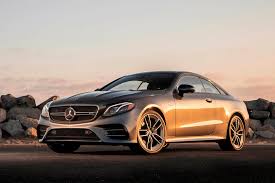 It is no secret that Mercedes AMG is a roaring circuit on the luxury sedan market. Conceivably, the AMG E 53 is back and it's better for its new 2020 model. This sedan has all the new bells and whistles that make the E 53 top of the line. This beauty can be found in our showroom at Mercedes Benz of Tacoma. The enhanced upgrades to the E53 offer luxury features, and revolutionary and modernized design that will not disappoint.

This E53 model comes with all the standard necessities as well as a few other extravagant pieces that differentiate itself from the regular Mercedes-Benz E-class. You can expect chrome twin blade diamond radiator grille, black accents on front splitter, and the AMG specific side still panels. Compared to its slightly younger model, the 2020 has approximately 8.1 inches of more width than the 2019 model. The Mercedes 12.3 inch digital ​infotainment display comes with twice the excitement. A second 12.3 display is placed in front of the driver for convenience. Compatible with apple carplay, android auto, and MBUX that promotes customizable displays.
AMG welcomes a new generation of power will an all new updates 6 inline engine. Its futuristic form is a turbocharged, beltless engine with an EQ boost to assist. Resulting in a immediate response from its innovative inspiration. Powering 429 horsepower and 384 lb-ft torque, accelerating 0-60 mph in just 4.4 second, take that 21.1 gal fuel capacity to its limits.

Come test drive the Mercedes AMG E53 here at Mercedes Benz of Tacoma. Located in Fife, Washington, just miles from Seattle, Olympia, and Vancouver, make the drive to check out our AMG selection.