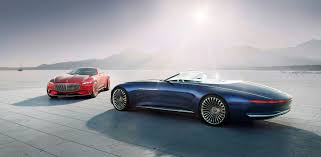 ​
This glamorous coupe has come to the surface out of Pebble Beach. An annual classic car convention in California was the premier of the Vision Mercedes Maybach back in 2016. August brought us sunshine and new luxury cars. The new design reinterprets the classic style we once knew. This car represents a new era of glam. This car offers a one in a lifetime luxury feel. Intelligent and innovative techniques make this vision a reality.
This is considered a 'large' coupe that has an all the perfect features to make the perfect ride. Pleasing to the eye aesthetic to the world, the bonnet sits at 18 ft 8 inches long that makes this Maybach a classic versus retro. The updated front end revives the fine lines and sporty contrasts with a radiator grille full of vertical teeth to give an elegant touch. Never the less, Mercedes made sure to incorporate softer materials inside. Without drawing the eye from the unique technological feel, we find soft wooden trims to bring this luxury car back to life.
This Vision Maybach was designed to be an electric car. Able to perform at its fullest potential, all wheel drive and 0-100 km in less than four seconds thanks to its miraculous 750 horsepower there is no performance too big for the Maybach.

Although there is no official release date, Mercedes anticipates this concept to be the most talked about luxury coupe out there. Our sales team is prepared to answer any and all questions Mercedes, and even take you for a spin in a Mercedes-Benz test drive around Fife, Washington.