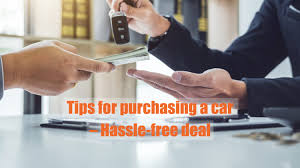 ​When in the market for some new wheels, it is easy to be intimidated. Here are some ways that will allow you a stress free process to get the car of your dreams. Listed are 8 steps and tips to provide a clear understanding of what you are working with to maximize your search and minimize your worries.
1.
Financing:
This is one of the most critical steps in the buying process is finding your budget. Get an idea of what you can put down as a deposit, and what you think would be a reasonable monthly payment. A handy tool to use to determine this is the Payment Calculator that regulates buying power (calculates the price of a vehicle you could afford by entering a monthly payment and down payment you are comfortable with) and/or monthly payments (calculates the expected monthly payments of a vehicle by entering its price and a down payment that you are comfortable with).
2.
Credit Score and Loans:
Get familiar with your credit score. Don't go into this process unprepared. It is always a good idea to know roughly what your credit score is. Find your buying power with research on loans that would work best for you and interest rates that fit your needs. Soft credit checks are available at https://www.creditkarma.com/.
3.
Research:
Do some research on what kind of car you are looking for. What features, technology, color, and many seats you prefer, etc. It is best to have some idea of what you are looking for before approaching a salesperson. However, sales people and dealerships are good resources to go to for any questions or help you might have.
4.
Compare and Shop:
Of course, everyone wants a good deal and more bang for their buck. It is not always a great idea to buy the first car you see without shopping around fist. Check out local dealerships in your area to find the price that works best for you and make sure you are getting your money's worth. Other reliable resources would be Cars.com; this is where you can define your search to all dealerships near you. Another resource is Kelley Blue Book. KBB is a great tool to use to see reviews and relevant information on a vehicle like its value.
5.
Trade-In:
It is ok to not trade in a vehicle when purchasing a new car, although it may be a good idea. If you do plan on trading your vehicle in, get all the information on your vehicle to get the best deal. Use Kelley Blue Book to see what your car is valued at beforehand.
6.
Test Drive:
It is always recommended to test drive a vehicle before you purchase it. This way there is no surprises when you are off the lot that can cost you more in the long run. Do a quick detailed inspection of the car to look for any noticeable damages or scratches.
7.
CARFAX:
just like in number 5, it is crucial to do your research. If you find a car you like online or even in a dealership, always asked to see the carfax. Salesmen are prepared to give you everything you need to know about that particular vehicles history, no questions asked. This is a very important step for purchasing any used car. However, you need to know what to look for while looking at the carfax. Checking the title, accidents reported, and any mechanical issues are some of the few things to keep your eye on.
8.
Warranties and Guarantees:
Understand that every buyer has rights that regulate a fair buying process. Get to know your warranties that are offered and any liabilities or extra fees. A car is fragile and will have some issues down the road, be sure of what is covered and what is not.
​
​Don't be afraid to ask questions if you do not know. Many dealerships offer return policies that you will want to get familiar with. Think of buying a car as an investment. Come prepared and educated so you will leave well taken care of. Don't be intimidated; take the time to make the best choice for you and your wallet. Following these few simple steps will have you leaving with the car of your dreams and no buyer's remorse. Take charge of your buying experience.