Mercedes Benz has yet to disappoint. A basic sedan turned luxury is how Mercedes stole the hearts of many. The A-Class Sedan, everything premium in a small package, although, there is nothing small about this car. Newer and better than ever, the A class has been made for the ultimate cruising experience.

The A stands for advanced. Mercedes Benz has many innovative technologies included in the new 2019 model. A new generation of Mercedes technology includes the "Mercedes-Benz User Experience" or "MBUX" for short. This system has given drivers the most natural and intuitive drive of their lives. This vehicle is at your disposal. A touch screen here, a touch screen there, everywhere a touch screen. In the dash, on the console and touch control steering, the A Class cockpit is right at your fingertips. Scroll, swipe, and select from numerous menu options around the car. Navigation has come to an all time high with the help of MBUX. Simply use voice control to find the closest gas stations, or coffee shops to you and your destination.

When driving your new A Class, be amazed at just how stress free your ride can be. Change lane assist, adaptive cruise control and stop and go in traffic that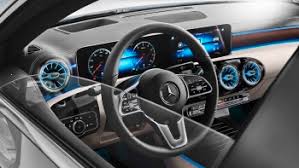 ​
makes this sedan one of the safest on the road. Not only is there fantastic safety features, but even sensors that assist with parking with a 360 degree surrounding view of the vehicle. Hands free and hassle free.

The 2019 Mercedes-Benz A-Class sedan is designed with the maximum amount of precision. Another A for attention is how we define the A-Class. Clean lines, rich LED headlights, which capture admiring eyes. A roomy cabin that includes powered front seats that remember the original position, filtered climate control, panorama sunroof, and so many optional advancements!

Many choices that are optional which include the standard 17 inch killer Mercedes alloy wheels to 18 or 19 inches of pure beauty. A few more A's to add to the mix, Athletic, Agile, and Active. A turbo powered engine, seven speeds and four drive modes that also is available with three suspensions. Consistent with all wheel drive, this 220 4MATIC engine that holds 188 horsepower and 221 lb-ft of torque. Rapid speeds that will keep you moving and a shift that will make you think. Dynamic Select is tuned into four modes, throttle response and more efficiency than ever before.