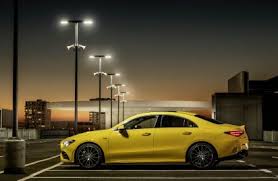 ​
Drive confidently in the new 2020 Mercedes AMG CLA 35. With so many great features that are included in the new sedan, at Mercedes Benz of Tacoma we just cannot get enough. There are many reasons why Mercedes Benz had been awarded the number two in luxury mid size cars. Here is why we love it so much:

Mercedes has introduced a greater concept to the AMG CLA 35 to enhance its performance & overall quality. Its curvier features have given a new name to the four door coupe idea that has slowly been initiated into the new generation of cars. This CLA model has been made to mirror its bigger cousin, the CLS. This is also the first version of the CLA that has been brought to the AMG family.

The AMG CLA 35 has adapted to perform at great lengths. The AMG is equipped with the standard 4Matic all wheel drive and a seven speed dual clutch and a 302 horsepower with 295 lbs of torque adds great excitement to every drive. As well as getting from 0-60 miles per hour in little as 4.6 seconds makes for an exhilarating ride.

Don't miss your chance to get fast and furious in the new 2020 Mercedes AMG CLA 35. Visit us here at Mercedes Benz of Tacoma to test drive today!