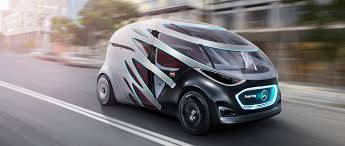 ​
Mercedes Benz has presented a concept that will blow us away. The Vision URBANETIC is an imaginative concept that has truly brought us back to the future. This vehicle has gone above and beyond to bring a new kind of vehicle to the streets and reinvent the way we drive cars. This car is the ideal vehicle for modern living. The URBANETIC focuses on what we except from the next generation of electric vehicles.

A concept that is capable of many things, like self driving and powered by an electric chassis and has the ability to switch different bodies depending on what the intended use is that could hold up to 12 passengers. Imagine a bus, but with the luxury of Mercedes Benz and eco-friendly that will save so much time and money. According to Mercedes, the URBANETIC has a zero local emissions mobility that makes it the ideal transportation for busy cities. It has a highly praised quite feature that cancels any "noise pollution" and CO2 emissions conception. There is a need to make cars more efficient for our well being and Mercedes-Benz is taking those steps to making a difference. So whether you're transporting people or goods, let he Mercedes-Benz URBANETIC lead the way.

An intelligent concept that is full of fantasizing designs and ground braking revolutions. This idea is grasping the needs of those that have not yet been met. Transportation has been made easy thanks to the URBANETIC. Using an app, riders whether individually or in a group, can register for a ride at anytime and anywhere.