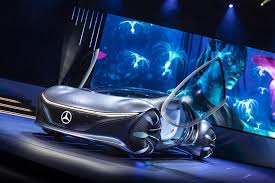 ​
Mercedes Benz Avatar Concept Mercedes Benz has always one upped the others, and the Avatar concept is no exception. We have heard a lot of shatter over on our end, and we are so excited to share with all of you that this concept is coming to life! With an over the top release as this one, we can only expect the Avatar to be nothing less than extravagant. At the 2020 Consumer Electronics show, Mercedes Benz had unveiled something that had only been a glimmer of hope, is now a reality. There is no better timing than introducing a hot new model at the beginning of a brand new decade! Here is everything you need to know:
Concepts cars are meant to push the boundaries of the modern day vehicle. There are no rules to brake while designing the Avatar. Keeping a logical yet sophisticated idea with a sporty and simple resurrection, the Avatar makes a mark on what we can expect in the near future. Concepts offer the newest of new not only in its design but in its functionality and technologies. We're going back to the future with these concepts that will direct the imminent outcomes of what Mercedes holds in store.
That's right; the Mercedes Benz Avatar is a reflection of the new Avatar Sequel that is expected to premier in December of this year. Avatar has been very popular among the people for its exciting plot and out of the box dialogue just like the Mercedes Avatar.

As we learn more about the Avatar, we encourage you all to stop by Mercedes Benz of Tacoma in Fife, Washington to learn more and find your perfect ride within our extensive inventory lineup! We look forward to seeing you.