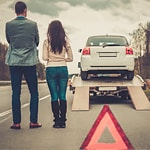 It's extremely upsetting to be involved in a motor vehicle accident. We here at Mercedes-Benz of Tacoma hope that you're alright, and we have some tips that can help you deal with this situation. We understand that you're very stressed, but it's important that you move through this process properly.
The first thing you should do is assess the wellbeing of everyone that was involved. If any injuries have occurred, immediately call for medical help.
Try to move away from your vehicle and to a safer place nearby. You don't want to be a sitting duck in the middle of the roadway.
Call the police so they can send a dispatcher to the scene of the accident. They'll help take care of everything while ensuring that a police report is compiled.
Exchange information with the other parties involved before you contact your own insurance provider to file an accident claim.