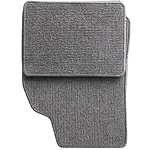 Floor mats added onto your vehicle provides an extra layer of protection when you trek grass, mud, road salt and snow into your interior. You've made a big investment when you purchased a vehicle. Spending a little more money for floor mats is a great idea. You can choose from all-weather mats or carpet. They both have their pros and cons.
If you're not someone who brings a lot of mud and mess into your vehicle, carpeted floor mats tend to look much nicer. They are a nice addition to a luxury or high-end interior.
All-weather floor mats are the most durable option that you're going to come up with if you're looking for a way to protect your interior. They can generally be hosed off or wiped off when a mess occurs. They will often last the entire life of the vehicle.