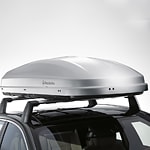 Roof racks offer extra storage for the things you need to take on your next adventure. Knowing how to use them safely will keep your luggage, your passengers, and your vehicle in good condition.
A permanent rack usually came attached when you bought the vehicle. With a removable rack, make sure it's properly fitted to avoid damaging the vehicle. Get help with loading the cargo. This will help avoid paint or body damage. If you are using a roof box, install it on the rack, then load the contents. When carrying canoes, surf boards, or lumber, tie the ends to the front and back bumpers, as well as the roof rack.
When tying down any cargo, use at least four cam-buckle straps. Two should go from side to side, while the other two go front to back. Before your next adventure, stop by the service department here at Mercedes-Benz of Tacoma for a checkup.