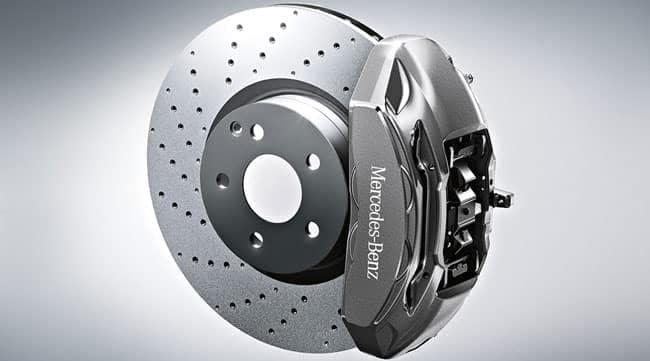 Brake with Confidence Driving Through Tacoma with Mercedes-Benz Brake Repairs for Your Luxury Car or SUV
Make your way to Mercedes-Benz of Tacoma for quality brake repairs any luxury vehicle deserves. With brake repair service from our Tacoma Mercedes-Benz service center in Fife, WA, you can stop on a dime driving the streets of Olympia or Sea-Tac. From brake inspections to timely brake repairs and the replacement of key components, our luxury car service center in Fife, WA is the to-go brake service stop for Tacoma drivers.
Telltale Signs of Brake Trouble
Greater Distance & Time to Reach a Complete Stop
If Lakewood Mercedes-Benz owners notice it takes longer for their luxury car or SUV to reach a complete stop on Tacoma streets, their brakes may be in trouble. Watch for increases in stopping time and distance.
Soft Brake Pedal
If Olympia drivers need to apply greater braking force to a spongey or soft brake pedal, they should receive immediate brake repairs in Fife, WA. There may be air in the brake lines. Pulsating brake pedals are another warning sign.
Squealing & Screeching Noises
Drivers from Lakewood can listen for squealing and screeching brakes as they hit the pedal. If it sounds bad, the brakes are going bad.
Visual Cues
Look for leaking brake fluid. A lit ABS light or illuminated dashboard light may indicate Mercedes-Benz brake troubles. Watch if your Mercedes-Benz pulls from side to side while attempting to stop on Olympia streets.
Why Mercedes-Benz Brake Service in Tacoma?
Mercedes-Benz owners from Olympia can service their luxury vehicle's brakes with confidence, as our Fife, WA service center only uses genuine OEM parts for brake repairs. Our Mercedes-Benz certified technicians in Fife, WA are trained to diagnose brake problems and repair brakes the right way. Our trusted technicians will flush brake fluid, check brake components, resurface brake rotors, install authentic Mercedes-Benz brake pads, and handle additional brake repairs.
When Should Tacoma Drivers Have Their Mercedes-Benz's Brakes Checked?
Brake service intervals depend on the braking habits and frequency of Mercedes-Benz owners from Tacoma and Olympia. Full brake replacements are common every 40,000 miles, while routine brake repairs are often needed annually or every 12,000 miles. For driving safety, Gig Harbor Mercedes-Benz owners should have their luxury vehicle's brakes inspected twice a year.
Schedule Service Online for a Brake Repair Appointment with Our Tacoma Mercedes-Benz Dealership
We encourage drivers from Gig Harbor, Lakewood, and Olympia to have their brakes looked at by the experts. Schedule service online to book a brake repair appointment at our Mercedes-Benz service center in Tacoma.
Dealership Amenities:
Comfortable Waiting Area with Complimentary Wi-Fi
Complimentary Car Wash with Service
Complimentary Shuttle or Lyft Service Locally
Dedicated Barista offering complimentary Gourmet Beverages
Daimler Deli onsite with Fresh Deli Sandwiches, Salads & Wraps
Factory-Trained & Certified Technicians
Friendly & Experienced Service Advisors
Convenient On-Line Scheduling
Valet pickup and delivery available in some areas
Express service available
Complimentary snacks and beverages in the waiting area
*Adhere to all required elements listed by model year and specific model as indicated on the corresponding service sheet for Mercedes-Benz Maintenance Systems in the USA.
Hours
Monday

10:00AM-6:00PM

Tuesday

8:00AM-7:00PM

Wednesday

8:00AM-7:00PM

Thursday

8:00AM-7:00PM

Friday

8:00AM-7:00PM

Saturday

8:00AM-7:00PM

Sunday

10:00AM-6:00PM