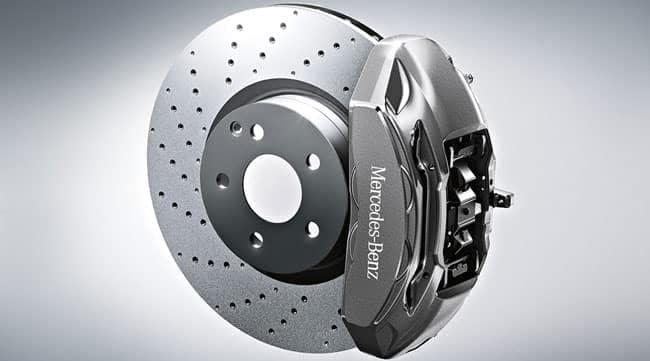 Factory Brake Pads vs. Aftermarket Brake Pads
Genuine Mercedes-Benz brake pads are made specifically for your Mercedes-Benz model and specifications. They have been tested by the manufacturer to perform best for the safety of your Mercedes-Benz. Aftermarket brake pads may be made of a harder, low-quality material, which will result in premature wear to the rotors, produce squeaks and squeals, and may not live up to the standards of stopping distance and safety that genuine factory parts provide. This could mean the difference between a close call and serious accident should they need to be put to the test.
Common Warning Signs of Brake Trouble
Squealing or grinding noises during braking
Poor braking problem (hard to stop the car)
Pulling to one side, or "grabbing"
Loss of brake pedal
Pulsation of the brake pedal during braking
Clicking noises during braking
Excessive drag during acceleration ("Anchor Away" Syndrome)
Lit ABS light for the antilock brakes
What is Done During a Brake Pad Replacement
Brake Component Check
Install New Genuine Mercedes-Benz Brake Pads
Resurface Rotors
Lube Caliper Slides
Brake Fluid Exchange
At Mercedes-Benz of Tacoma, our Certified Mercedes-Benz Technicians are trained to identify and resolve any brake component concerns to the manufacturer specifications of your model. If you are experiencing any of the common warning signs of brake trouble, contact our Service Department at 888-400-6358 or schedule a service appointment online today. Our department hours are 7:30 am to 9:00 pm Monday through Friday and 8:00 am to 5:00 pm on Saturday. Service is closed on Sundays. 
Dealership Amenities:
Comfortable Waiting Area with Complimentary Wi-Fi
Complimentary Car Wash with Service
Complimentary Shuttle or Lyft Service Locally
Dedicated Barista offering complimentary Gourmet Beverages
Daimler Deli onsite with Fresh Deli Sandwiches, Salads & Wraps
Factory-Trained & Certified Technicians
Friendly & Experienced Service Advisors
Convenient On-Line Scheduling
Valet pickup and delivery available in some areas
Express service available
Complimentary snacks and beverages in the waiting area
*Adhere to all required elements listed by model year and specific model as indicated on the corresponding service sheet for Mercedes-Benz Maintenance Systems in the USA.
Hours
Monday

8:00AM-7:00PM

Tuesday

8:00AM-7:00PM

Wednesday

8:00AM-7:00PM

Thursday

8:00AM-7:00PM

Friday

8:00AM-7:00PM

Saturday

8:00AM-7:00PM

Sunday

10:00AM-6:00PM