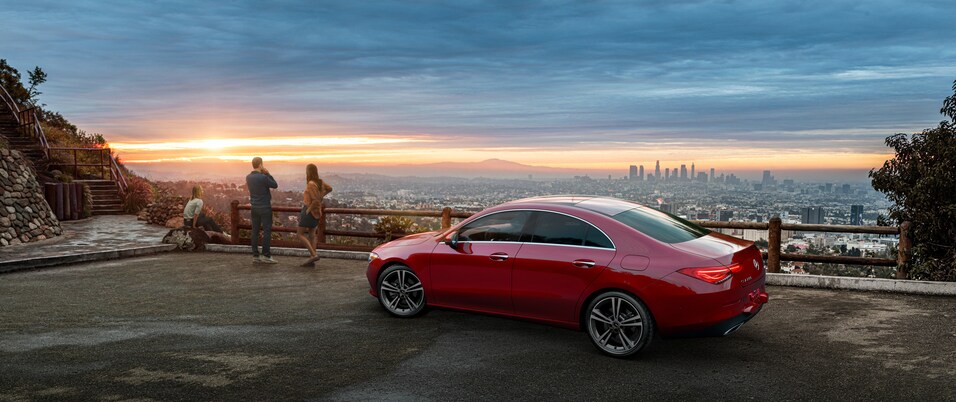 Meet the Impressive Mercedes-Benz CLA
Gig Harbor consumers desiring a luxury compact coupe with sports car-like performance choose the Mercedes-Benz CLA. The vehicles boast exquisite design styling inside and out. The performance-ready powertrains provide exceptional power. The CLA's overall profile ensures efficient handling.
What Makes the New Mercedes-Benz CLA a Great Vehicle?
Mercedes-Benz is raising the bar high with its new four-door coupe, the CLA. The new model is more capable, more extensive, has advanced tech, and it's well-equipped for drivers in Fife, WA. This is a fantastic package for buyers who expect luxury vehicles to contain the latest features. Whether you pick the CLA 250 or AMG models, you will get a vehicle with an intuitive infotainment system, smooth handling, and a high-class cabin. Here are the top reasons to buy the new Mercedes-Benz CLA.
A Large Trunk
The Mercedes Benz CLA has undergone a revamp, and the trunk now seems large. The trunk is roomy and suits drivers who frequently go on long trips and city dwellers alike. Compared to its competitors, the CLA's trunk is phenomenal and top-class. As a result, the extra storage space adds an incredible appeal to the vehicle.
Spirited Performance
The Mercedes Benz CLA flaunts an impressive acceleration and speed when equipped with either the FWD or the AWD system. It's fun to drive on the highways, mainly with the steering capabilities that boost the car's drive. Base CLA 250 models come with turbocharged 2.0-liter engines that produce 221 hp and 258 lb-ft of torque. The vehicles also have an automatic dual-clutch seven-speed transmission and FWD or AWD. The AMG trim levels come with modified turbocharged 2.0-liter engines. The motor in the CLA 35 delivers 302 hp and 295 lb-ft of torque. The CLA 45 models crank the power up even further with engines that put out 382 hp and 354 lb-ft of torque. The potent powertrain comes with AWD and an automatic dual-clutch eight-speed transmission.
Semi-Autonomous Possibilities
Mercedes includes plenty of valuable features to the CLA. For instance, the CLA's active safety features include rear cross-traffic alert, emergency brake assistance for forward-collision risks, active and evasive steering assistance, lane change assist, lane-keep assist, and blind-spot monitoring.
Sporty and Comfy Ride
The vehicle's transmission system comes standard with a comfort mode, but you can switch it to sport to get improved abilities. Thanks to its innovative technology and transmission working, the sport mode boosts the CLA's drivability. The two modes work best for a driver who needs clever power and athletic drive without feeling too difficult to drive.
Improved Styling
The new Mercedes-Benz CLA flaunts an improved exterior design, giving it a sleeker appearance. This design keeps the vehicle modern and alluring to new and loyal clients. The truth is that the car's high-quality build remains, so you don't have to worry about its longevity.
Interior/Accessories
The opulent interiors of the CLA vehicles are designed to seat up to five passengers. The trunk provides 11.6 cubic feet of storage space. The cabin interior has leatherette upholstery. The front seats are sporty and power-adjustable. The infotainment system comes with a 7-inch touchscreen, HD radio, and touchpad control technology. The system links with smartphones. Bluetooth improves mobile device function. Occupants have access to five USB ports to keep devices charged.
Standard safety features include automatic forward emergency braking, forward collision warnings, and blind-spot monitoring. The tech also includes cross-wind assistance and driver drowsiness monitoring and alerts. AMG CLA 35 and AMG CLA 45 models come equipped with larger 10.25-inch touchscreen displays. Lakewood drivers also get a 10.25-inch digital instrument display. The vehicles also gain a heavy-duty sport suspension.
Safety
Standard safety features in the CLA include a rearview camera, automatic forward emergency braking, forward collision warnings, and blind-spot monitoring. The tech also includes cross-wind assistance and driver drowsiness monitoring and alerts. Optional safety amenities include adaptive cruise control, lane-keeping assistance, rear cross-traffic alerts, parallel parking assistance, and an upgraded 360-degree view camera system.
Visit Mercedes-Benz of Tacoma Today!
If you're in Tacoma or Fife, WA, stop by Mercedes-Benz of Tacoma to learn more about our new inventory, including new sedans, and specials. Be sure to contact us for finance offers as well.
Make an Inquiry